Dundalk CT Tranquility 6 Person Outdoor Barrel Sauna
Tranquility Sauna Description

Heaters

Downloadables

Videos

Warranty

Why Buy From Us

Returns

Financing
Tranquility Sauna Description
Dundalk CT Tranquility 6-Person Outdoor Barrel Sauna CTC2345W
Quick Overview of Features
Unique barrel design for improved airflow and faster heat-up time
Seats 6 people comfortably, the largest barrel sauna by Dundalk
Handcrafted from eco-friendly, sustainably-sourced Eastern White Cedar
Marine Grade Aluminum Bands with stainless steel tightening bolts
Solid wooden benches designed to accommodate up to 6 people
Cedar cradles provide strong base support with a flat floor
Door is made from a solid wood frame with a 5mm bronze tempered glass design
Front porch feature included
Black Asphalt Shingle Roof Upgrade for increased insulation and protection
Option to choose between electric or wood-burning sauna heaters
Chimney installation can be done out the top or back of the sauna
Optional water tank upgrade available
Additional accessories available (thermometer, bucket, ladle, backrests, lights)
Expanded Summary
Looking to add a touch of relaxation and luxury to your outdoor space? The Dundalk Tranquility Barrel Sauna is the perfect choice for those seeking a unique and stylish sauna experience. 
This sauna boasts a unique barrel design that not only looks stunning but also improves airflow and offers faster heat-up time, making it a perfect choice for those who love to unwind quickly.
The largest barrel sauna in the Canadian Timber Collection by Dundalk, this sauna can comfortably seat up to 6 people. It is handcrafted from eco-friendly, sustainably-sourced Eastern White Cedar, which not only offers durability but also adds a natural and aesthetic appeal to the sauna. The marine-grade aluminum bands with stainless steel tightening bolts provide a sturdy construction, ensuring longevity and stability.
The solid wooden benches are designed to accommodate up to 6 people comfortably, allowing for seating or lying down, allowing for maximum relaxation. The cedar cradles provide strong base support with a flat floor for the inside of the sauna. The door is made from a solid wood frame with a 5mm bronze tempered glass design for added safety and aesthetic appeal.
This sauna also comes with a useful front porch design, perfect for resting before or after a sauna session. Additionally, the black asphalt shingle roof upgrade increases insulation and protection, ensuring a more comfortable and safe experience.
The Dundalk Tranquility Barrel Sauna offers the option to choose between electric or wood-burning sauna heaters, depending on personal preferences. The chimney installation can be done out the top or back of the sauna, offering flexibility and customization. For those who want to enhance their sauna experience, an optional water tank upgrade is available for the out-the-roof chimney set.
Additional accessories such as a thermometer, bucket, and ladle, backrests, and LED lights are available to enhance the sauna experience further.
In conclusion, the Dundalk Tranquility Barrel Sauna is an exceptional choice for those who are looking for a premium quality, stylish, and sustainable sauna experience. It offers a perfect blend of comfort, durability, and luxury, making it a valuable investment for your home.


Gross Weight: 1300.41 Shipping

 Dimensions: 120 x 45 x 34 Inches
Tranquility Barrel Sauna - Black Asphalt Shingle Roof Upgrade
The Black Asphalt Shingle Roof Upgrade is an exceptional investment for your barrel sauna. Here's how it will benefit you:
Durable Protection: The roof upgrade offers superior protection to your sauna, safeguarding it from harsh weather conditions, such as rain, snow, and extreme sunlight. The black asphalt shingles are long-lasting and durable, ensuring that your sauna remains secure and protected for years to come.

Enhanced Functionality: With the black asphalt shingle roof upgrade, your sauna will be able to stay hot for longer periods, maximizing your relaxation time and making your sauna experience more enjoyable.

Improved Aesthetics: The black asphalt shingles also give your sauna an elegant and modern appearance. It's an excellent way to improve the overall look of your backyard oasis, creating a stylish and inviting atmosphere.

Long-term Investment: The Black Asphalt Shingle Roof Upgrade is a long-term investment that increases the service life of your barrel sauna. It provides you with peace of mind knowing that your sauna is protected and will continue to serve you and your family for years to come.
Overall, the Black Asphalt Shingle Roof Upgrade is a great addition to your barrel sauna. It not only enhances its functionality and security but also improves its aesthetic appeal. Don't miss out on the opportunity to make your sauna experience even better!


Save $117.50 when purchased with a sauna ( $509 -> $391.50)
Selecting Your Sauna Heater
When it comes to selecting a sauna heater, there are two main options: electric or wood-burning. Each has its own advantages and disadvantages, so it's important to consider your preferences before making a decision.
Electric heaters are convenient and easy to use. They can be programmed in advance, so you can have your sauna ready when you want it. They also come with built-in safety features, including automatic shut-off if the temperature gets too high. Electric heaters have fast heating times, and you can set the temperature and timer to your liking, allowing for a worry-free sauna experience.
If you prefer a more traditional sauna experience, a wood-burning heater may be more suitable for you. The burning wood creates a unique and pleasant aroma that adds to the overall ambiance. With a wood-burning heater, you can also choose the location of the chimney, either through the back wall or the top, which can impact the look and feel of your sauna.
When considering an electric heater, think about the heater's size and power requirements, as well as any additional features like a built-in control panel or timer. Make sure your electrical system can accommodate the heater's power needs.
On the other hand, a wood-burning heater requires a supply of wood and needs to be tended to during use. You also need to consider the ventilation requirements and the potential for creosote buildup in the chimney.
It's important to note that when purchasing a Dundalk Leisurecraft sauna, you must select a heating option. If you do not make a selection, your sauna will be purchased without a heater.
Ultimately, choosing between an electric or wood-burning heater comes down to your personal preferences and priorities. No matter which type of heater you select, a sauna is an excellent investment in your health and well-being.
Your Electric Heater Options
Designer B Electric Heaters
In-Room Control:

 

Enjoy sauna control without the need for external devices. Perfect for spaces where external controls aren't feasible.
Innovative Timer:

 

The "9+1" timer includes a 9-hour time delay feature, letting you preset your sauna's heat to match your schedule.
Space-Saving:

 

With dimensions of 16-1/2" W × 23" H × 11" D, this wall-mounted heater optimizes space usage.
Multiple Power Options:

 

Choose from 6.0 kW, and 8.0 kW models to match your sauna's size and heating needs. (Georgian requires 8KW) 6KW model = 25 Amps/240 Volts/ 1 Phase. 8KW Model = 33.3 Amps/ 240 Volts/ 1 Phase
Enhanced Heat Retention:

 

Accommodates up to 50 lbs of rocks, improving heat retention for a more satisfying sauna experience.

 You must have a licensed electrician wire your electric heater.
 Your Wood Burning Heater Option
Karhu Wood Burning Heater
No electricity required - ideal for cabins or remote areas.
Offers an authentic and enjoyable sauna experience
Even heat and efficient air circulation for a comfortable bath
Equipped with a glass door for a warm glow and traditional sauna atmosphere
Elegant graphite black color with stainless steel air-flow spoiler
100% Finnish Design.
Manufactured in Finland by the world's oldest Sauna Heater manufacturer.
Fully welded construction for durability.
Clean exhausts, low wood consumption, and minimal maintenance.
Rock capacity of 70 lbs.
Heater weight: 99 lbs.
Chimney Installation Options
Based on your preference you have the option of installing the chimney out the top of the sauna or out the back. Both options are displayed in the product pictures above. 
Optional Upgrade For Chimney Roof Kit
For those who opt for the out-the-roof chimney set, we also offer an optional upgrade – the water tank chimney roof kit. This water tank is designed to heat up the water that you pour onto the stones, extending the steam effect of your sauna session. By slowing down the rate of water evaporation, you can enjoy a more efficient and satisfying sauna experience.
The tank is easy to use – simply fill it with cold water and let the wood smoke from the chimney heat it up. Plus, with less hissing noise from the stones, you can create a more relaxing and tranquil sauna environment.
Note that this upgrade is not available for the chimney out of the back wall kit.
Investing in this upgrade is a must for anyone who wants to maximize the benefits of their sauna session and create a more enjoyable and therapeutic experience.
The Canadian Timber Collection by Dundalk LeisureCraft Inc. saunas are warranted against defects in materials and workmanship under normal/residential use for a period of three (3) years, as applicable, from the date of receipt of the product. This warranty does not apply to normal wear and tear and/or natural weather conditions. This warranty does not cover regular required maintenance of the sauna, (eg. Tightening bands on the barrels, cleaning or staining the sauna) refer to your sauna assembly manual for maintenance guidelines. This warranty does not cover misuse or negligence and the manufacturer and associated retailers are not liable for any injury or damage caused by the product. This warranty is a parts only warranty and any service or labor costs would not be considered as part of the 3 year warranty.
We understand that you have many options when it comes to shopping for saunas and wellness products online, and we appreciate your interest in Unwind Haven. Here are some reasons why we believe that shopping with us is the best choice for you:
Free Shipping for orders $500 or more:

At Unwind Haven, we recognize that purchasing a high end wellness product is a significant investment in your well-being, and we want to make it as easy and affordable for you as possible. That's why we offer free shipping for all orders of $500 or more to all customers in the contiguous United States. This way, you can get the most out of your purchase without worrying about shipping costs.
Price Match Assurance:

We believe in providing our customers with the best products at the best prices. Our team monitors our products' prices daily to ensure that you are getting the best deal possible. If you find a better price for any of our products elsewhere, simply let us know, and we will match it. Our Guarantee ensures that you get the best value for your investment. Click here for more details
No Sales Tax For Most States:

In addition to our competitive prices, we offer sales tax exemptions for nearly every state, except for CA and WY. This means that you can save even more on your purchase with us, making our prices even more affordable.
Safe and Secure Checkout Experience:

We take the security of your personal and payment information very seriously. That's why we use AES-256 encryption to ensure that your payment details are secure and protected. You can shop with confidence, knowing that your information is safe with us.
Shop Now, Pay Later:

We understand that purchasing wellness items can be a significant expense, and we want to make it as easy and flexible for you as possible. That's why we've partnered with Klarna to offer easy monthly financing, split payments, or buy now and pay your balance in 30 days. We offer flexible payment options to suit any budget and circumstance.

Click here for more details
Excellent and Reliable Service:

At Unwind Haven, we take great pride in providing our customers with the best service and support. From the moment you place your order until you receive your purchase, you can expect consistent communication and support throughout the process. Our team is here to answer any questions or concerns you may have, ensuring your complete satisfaction.

View our help center
Official Authorized Dealer: As an official authorized dealer for all the products we sell, we work closely with each brand to provide you with industry-standard products that are sure to aid you on your wellness journey. All items we showcase are covered by the manufacturer's warranty, giving you peace of mind that you are getting a high-quality product that is backed by the manufacturer.
Government and Military Discounts:

To show our appreciation for your service, we've partnered with GovX to offer a discount on our store. Codes are valid for saunas, showers, tiki bars, and more! Our discount is available to current and former U.S. military, military spouses and dependents, first responders including law enforcement, fire, and EMS, federal, state, and local government employees, and teachers (K-12 and University teachers/staff). This way, we ensure that our customers get access to the best deals possible.

Click here for more details
Volume Discounts: If you are interested in purchasing saunas or other products in bulk, we offer volume discounts to help you save even more. Simply reach out to us at support@unwindhaven.com with your inquiry, and we would be happy to provide you with a customized offer.
At Unwind Haven, we've worked hard to create an unparalleled shopping experience for our customers. We believe that our commitment to providing high-quality products, excellent service, and competitive prices sets us apart from the competition. Shop with us today and experience the difference for yourself.
While we fully stand by every product that we sell, we understand that sometimes you might change your mind or realize the product you ordered wasn't exactly what you were hoping for.
That's why we offer a 30 Day Return Policy.
If you decide you want to return an item within 30 days after receipt of your order, please email us at support@unwindhaven.com with your order number and we will provide detailed instructions on how to process the return.
Please note, that you as the customer will be responsible for paying the return shipping costs of the item(s) in your order.
Once your return item(s) have been received and inspected at our warehouse(s), we will send you an email notification that we have processed your return payment.
*Please note: In order to receive a refund for the item(s) ordered, the item(s) must arrive back at our distribution center in "Like New" condition and must contain all original packaging and accessories.
"Like New" means that the items you ordered must not show any visual signs of wear.
If items are returned with visual signs of wear, or have any issues due to use, they will not be accepted and no refund will be given.
If you decide you want to return your order, please email us at support@unwindhaven.com with your order number and we will assist you. We want to make this as simple of a process as possible for you.
All canceled orders and/or returned goods shall be subject to the following: a) storage fees and costs associated with routing the goods; b) handling and restocking fee of 20% of the total purchase for each sauna; c) return shipping cost
If the item has been opened, assembled, and used.
Important Information Regarding Dundalk LeisureCraft Returns
We will first try to send you any necessary parts free of charge.
It is very expensive to return products back across the border
If a product must be returned to the factory, the following will apply:
a. 20% Restocking fee
b. The customer will be responsible for shipping costs to the factory
c. Products must be returned in their original packaging and condition
d. Leisurecraft will inspect the product upon return and Leisurecraft will be the sole decider of the condition of the product and the amount of the refund
Damages
If the product is damaged, you must make note of it immediately when signing for delivery and send photos to support@unwindhaven.com on the day of delivery.
Remember to keep all the original packaging for any items that need to be returned. All returns need to be authorized by our customer service department prior to being processed.
We will ensure you get the product you ordered, undamaged, as soon as possible. Items that become damaged after use are non-refundable unless specified under warranty.
Specific Information For Dundalk Damaged Orders
If the crate arrives damaged, you can accept the shipment, however, please take pictures of the damage, and note the damage on the shipper's Bill of Lading (BOL).
Immediately, contact us or Dundalk, so we can contact the shipper.
Mark the Bill of Lading (BOL) with "(Crate arrived open/damaged- Possible Hidden Damage.
Specific Information For Golden Designs Damaged Orders
Once the driver has unloaded the sauna, please immediately inspect the boxes for any damage.
Please indicate any minor scratches, indentations, or scuff marks to the outside of the boxes on the delivery receipt.
You do not need to open the boxes to inspect the sauna.
Please refuse the delivery if you see any softball-sized holes in the packaging which is likely caused by forklifts.
Cancellations
If you would like to cancel an order, please email or call our customer service team immediately to avoid return shipping fees.
Cancellations received before shipment will receive a full refund.
Orders canceled after items have shipped will follow our 30 Day Return policy and will be subject to return shipping costs.
Other Return Policy Notes:
If a certain vendor or product does not support the return policy stated above, this will be noted in the product descriptions or in the product-specific return information.

Products that are specified as certified pre-owned or used are ineligible for a return

Unwind Haven

only sells to purchasers who intend to use the item(s) for the duration of its economic life. Orders purchased for the specific purpose of a "one-time-use or temporary use" are not eligible for return under any circumstances. This includes but is not limited to; orders intended for use in a trade show or a conference venue, orders that are purchased by promotional companies, and orders that are purchased by trade show facilitators.
Shop now, pay with Klarna.
We've partnered with Klarna to give you a better shopping experience.
It's smoooth and simple
Klarna helps you elevate your shopping game. When you choose Klarna at checkout, you'll get the option to shop now and pay later for your purchase. It's shopping the way it should be. Effortless, safe and fun.
4 interest-free payments
Split your purchase into 4 payments so you can spread the cost of your purchase over time. Enter the credit or debit card of your choice for automatic payments every two weeks. No interest or added fees when you pay on time.
Monthly financing
Apply for easy monthly financing directly in the checkout. A simple, 2-step application will provide an instant decision. Once you've been approved, you'll receive reminders and can manage your payments directly in the Klarna app. Monthly financing products are offered by WebBank, member FDIC.
How to shop with Klarna
Add item(s) to your cart and head to the checkout.
Select Klarna at the checkout to pay as you like for your purchase.
Manage your orders and payments in the Klarna app.
Safe and secure.
Klarna uses the latest safeguards and security to protect your information and prevent unauthorized purchases.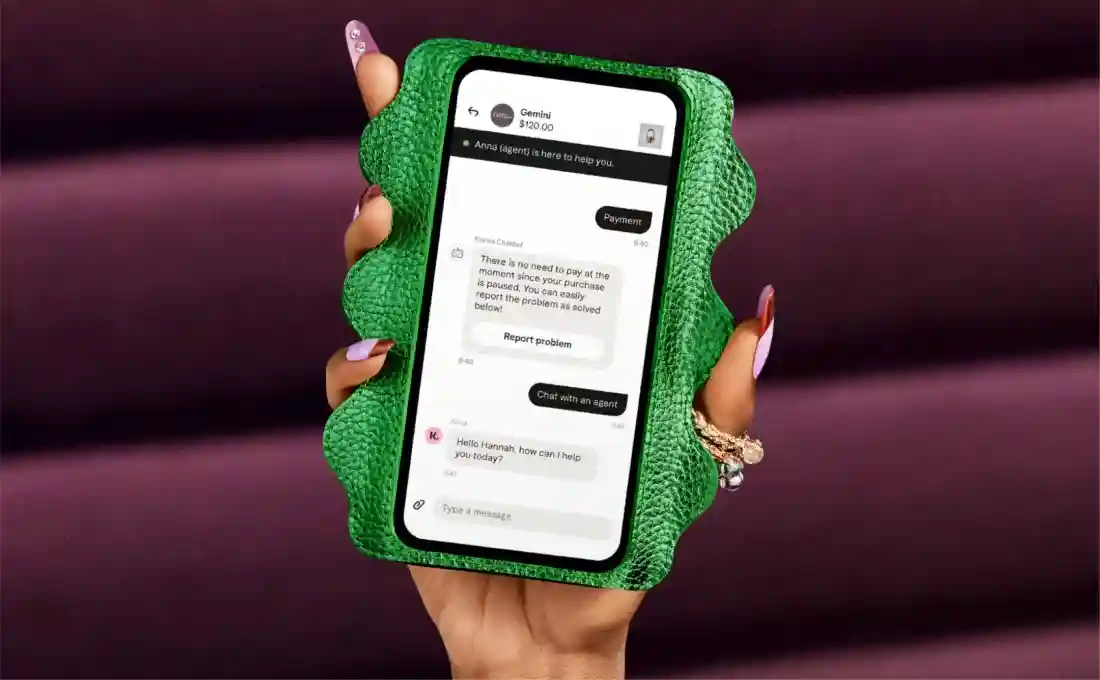 We're always here to help!
Don't see your question here? Check out Klarna's full FAQ page. You can reach Klarna anytime at https://www.klarna.com/us/customer-service/ or by downloading the Klarna app.
What happens if I make a return?
If you need to return part or all of your order, Klarna will issue you with a new statement. Simply follow the retailer's return instructions and make sure to take note of the tracking number. Log into your Klarna account, select "report a return", and we'll pause your statement. As soon as the retailer has processed your return, we will send an adjusted invoice.
There's something wrong with my order. Do I still need to pay for it?
You do not need to pay for goods that are received damaged, broken, or defective. Follow the retailer's dispute instructions and "report a problem" in your Klarna account to pause your statement until the issue is resolved. As soon as the retailer has registered your return, the refund will be processed within 5-7 business days.
I have not received my order. What happens to my statement?
You do not need to pay the statement until you have received your order. Contact the retailer for a delivery update, log into your Klarna account, and "report a problem" to pause your statement until you've received your order.
My statement is incorrect. What should I do?
If your statement does not match your order details, please contact the retailer directly to correct your statement. Log into your Klarna account and "report a problem" to pause your statement until the details have been corrected.
About Klarna
We're on a mission to reshape shopping, by elevating the entire shopping experience from browsing to owning. We do this by giving you the benefits of convenience, perks and inspiration.

Founded in Stockholm, Sweden, Klarna is one of Europe's fastest-growing companies and a leading alternative payment provider. We have 5,000 employees across 45 countries, and are leading the way for alternative payments by serving 147 million consumers and 400,000+ retailer's payment solutions.

https://www.klarna.com/international/about-us/