IT-8500 X3 3D/4D Massage Chair
Description

Downloadables

Videos

Warranty

FAQ

Why Buy From Us

Returns

Financing
 The IT-8500™ X3 3D/4D Massage Chair is your ultimate solution for complete relaxation and stress relief. With its advanced features such as the 3D/4D Back Massage Mechanism, Near Flat Reclining S-Track, Spinal Correction and Decompression Stretch, Lumbar Heat, True Inversion, and Waist Twist Therapy, you'll experience a deep and rejuvenating massage that targets every area of your body.
The Truefit™ Body Scanning feature ensures that your massage is tailored to your individual needs, while the Weightless Zero Gravity Recline provides a feeling of weightlessness and relaxation that's second to none. With 9 Auto Programs, Triple Foot Roller Total Sole Reflexology, Premium Bluetooth® Speakers, Color Menu-Driven Remote, Rhythm Sync Massage, and 40 airbags 64 cells, you can easily customize your massage experience to meet your specific needs.
Purchasing the IT-8500™ X3 3D/4D Massage Chair from Unwind Haven offers you the best value with Free shipping on any delivery method, whether it be standard curbside or full-service white glove delivery, 0% financing, no sales tax for almost every state, competitive pricing, and great service. Don't wait any longer to experience the ultimate in relaxation and comfort with the IT-8500™ X3 3D/4D Massage Chair.
Targeted Regions
Neck & Shoulders, Upper Back, Lower Back, Legs & Feet, Arms
Massage Techniques Include:
Shiatsu
Tapping
Knocking
Kneading
Sync
Rhythm
IT-8500 X3 Features 
3D/4D Back Massage Mechanism: A 3D/4D back and glutes massage mimics deep tissue massage of human hands through the use of a 3D mechanism that moves up and down, left and right, in and out (intensity), and also adds a fourth dimension of variable speed on these movements, to create the feel of a human hands massage.
Near Flat Reclining S-Track: The S-Track rollers follow the curve of the spine, moving up and down from the neck to the lower back. This feature gives you a full-body stretch — the hips are held in place while the legs are pulled down, stretching your back.
Spinal Correction and Decompression Stretch: During this full-body stretch, the massage chair's airbags grip your shoulders and legs as it reclines accordingly to soothe and relieve your spine. The spinal correction feature uses powerful stretching techniques to extend and decompress your spine in order to relieve back pain.
Lumbar Heat: Heating modules located in the lower back of the chair provide a soothing sensation and loosen your muscles to better prepare your body for the massage.
True Inversion: The chair reclines back below a horizontal level, to below 180 degrees. This technique puts your body inverted with your head down and heels up to relieve pressure on the vertebrae.
Waist Twist Therapy: Compression massage applies a gentle twist of the hips to stretch tight muscles.
Apple® & Android™ App Functionality: Operate the chair right from your Apple or Android device with a free download of its app-based functionality.
Truefit™ Body Scanning: Special technology within the hardware and software of the chair allows the chair to pinpoint the user's size and shape, providing a customized massage specific to them.
360° 4-Node Plus Massage: Enhanced 4-Node Plus Back Massage Mechanism delivers a 360° figure 8 sweeping motion down the entire length of your spine while delivering five comprehensive massage techniques: kneading, tapping, kneading + tapping, shiatsu, and knocking) for a unique massage experience.
Weightless Zero Gravity Recline: Initially developed by NASA, Zero gravity positioning elevates your feet above your heart, relieves pressure on your spine, and improves circulation. This allows the spine to decompress and provides a sense of weightlessness to aid in the therapeutic benefits of the massage chair.
9 Auto Programs: Convenient and easy-to-use automated and choreographed programs with the push of a button. Each program automatically changes massage techniques, intensities, and chair movements to create a complete massage session.
Triple Foot Roller Total Sole Reflexology: This feature has the broadest coverage of the foot sole allowed in a massage chair today utilizing triple shiatsu rollers per foot attending to the vital pressure points on the feet linked to other parts of the body.
Premium Bluetooth® Speakers: Immersive speakers located in the headrest connect to a phone or other Bluetooth device allowing you to stream music, guided meditations, ambient soundscapes, and any other form of audio to enhance the mental experience of your massage.
Color Menu-Driven Remote: Full-color display allows a menu-driven interface for added features over static displays or control panels.
Rhythm Sync Massage: Massage strokes that marry up to the music being played through the speakers.
Specifications
Upright Chair Dimensions: 

36"w x 59"l x 46"h

Reclined Chair Dimensions: 

36"w x 74"l x 36"h

Chair Weight: 

265 lbs
Ideal Height: 5'0" - 6'6" 
Max Weight: 300 LBS
Infinity Care
5 Year U.S. Residential Limited Warranty
Unlimited USA-based customer & technical support
5 Year structural frame warranty
No-cost replacement on covered parts for 3 years
Covered labor (in-home, if necessary) for 1 year
---
Limited Warranty
Infinity Massage Chairs are designed, built, and inspected to ensure excellence in operation and enjoyment. While rare, defects in manufacturing can occur. This limited warranty exclusively covers manufacturing defects.
---
Complete Care Warranty Period
For In-Home service, Infinity Massage Chairs will arrange all covered parts deemed necessary, to be sent to the consumer and, if necessary, an authorized service provider to repair the product at the customer's residence, at no charge to the customer. If a particular part is no longer manufactured, Infinity Massage Chairs may replace your product with a similar product. Under no circumstances shall the retail replacement value exceed the original net price paid for the product. In the event you choose not to accept a replacement for your product, Infinity Massage Chairs is no longer responsible for making repairs under the warranty coverage.
Any repairs needed during the 3 year parts warranty coverage, Infinity Massage Chairs will provide covered parts at no cost; however, consumer is responsible for any and all shipping, duties and brokerage fees. Structure warranty is limited to the steel and steel-welded parts of the frame, in addition to any wood structure that may exist. If a replacement is issued under the Parts or Structure warranty period, the consumer is responsible for shipping, duties, and brokerage fees related to the replacement. Infinity Massage Chairs, at its sole discretion, will repair or replace any defective part within a reasonable time frame. Field Service is only available in the United States and major metropolitan areas in Canada. Field Service requires pre-approval and, if necessary, must be performed by Infinity Massage Chairs-authorized field service personnel to maintain warranty coverage.
---
Warranty Limitations and Exclusions
Warranties do not cover any loss or damage resulting from: improper installation; unauthorized repairs; use in a commercial or corporate setting; alterations or modifications of original condition; improper use of electrical/power supply; loss of power; electrical disturbances and power surges; dropped product, including but not limited to remote controls; a malfunction or damage resulting from improper use or unreasonable use or maintenance; failure to follow operating instructions; transportation damage; theft; abuse; misuse; neglect; vandalism; or environmental conditions (fire, floods, rust, corrosion, sand, dirt, windstorm, hail, earthquake, or exposure to weather conditions); loss of use during the period the product is at a repair facility or otherwise awaiting parts or repair; and products purchased or acquired from unauthorized dealers. This warranty is not transferrable. Damage incurred due to shipping and handling does not constitute a defect under this warranty. Softening/ hardening of foams and filling composites in pillows and pads does not constitute a defect under this warranty as those items naturally change with use. Fading, wear, and pilling of fabrics does not constitute a defect under this warranty as those conditions naturally occur with fabrics. Natural markings and grain and dye variations in leather do not constitute a defect under this warranty, as no two pieces of leather are alike. Failures of attach points, such as, but not limited to: stitching, Velcro, and zippers, do not constitute a defect under this warranty.
To initiate an Infinity Care Warranty claim, simply call Infinity Limited Warranty Service at 1-603-910-5000. Please be prepared to describe the product that needs service and the nature of the problem. A purchase receipt is required. All repairs and replacements must be authorized in advance. Service options, parts availability and response times will vary. You are responsible for delivery and the cost of delivery of the product or any parts to the authorized service center for replacement, per our instructions. Limits and exclusions: Coverage under this Limited Warranty is limited the United States of America, including the District of Columbia and the U.S. Territories of Guam, Puerto Rico, and the U.S. Virgin Islands. © 2019 Infinity®. All rights reserved.
What makes your chairs better than others?
Simple. We are at the forefront of innovation in the massage chair industry. We design and implement the latest and greatest of features into our chairs in order to ensure a one-of-a-kind massage experience. Our attention to detail, quality assurance, and design innovation give us the ability to create The Ultimate Massage Experience.
How long will the chair last?
Infinity Massage Chairs are manufactured with durable framework and tremendously well-engineered technology in order to ensure longevity. With proper care and occasional maintenance, your chair will provide many years of wellness.
In fact, we're so confident in our chairs that we provide a five-year structural warranty, three years on Parts and a full year of in-home labor, if necessary. An extended parts and labor warranty for up to a full five years is also available for purchase.
What is a Certified Pre Owned Chair?
Certified Pre-Owned Grade A chairs are ones that were returned to us for various reasons, such as not fitting through a customer's door, the customer changing their mind before delivery, or minor damage caused during delivery. These chairs have been used for a maximum of 100 days and we inspect them thoroughly to ensure they work properly. If there is any minor damage, we replace the damaged part with a new one. These chairs come with the same warranty as a brand new chair, but you save money by purchasing a pre-owned one.
Certified Pre-Owned Grade B chairs are also used chairs that have been returned to us, but they have more visible damage such as scratches or scuff marks. We inspect them thoroughly to ensure they still work properly and offer the same warranty as a brand new chair. However, because they have more visible wear and tear, they are sold at a lower price than the Grade A chairs.
The chair seems big, is it going to fit in my house?
The dimensions of each chair, both upright and reclined, can be found on the product page under the Description tab.
Most Infinity chairs are equipped with our innovative space-saving technology, which either moves the chair forward on a track system or on its axis in order to conserve space. Select models have Zero Wall Fit space-saving mechanism, which allows you to place the chair as close as 2" from a wall and still fully recline without concern for additional space.
How does delivery work?
We ship anywhere in the continental United States. Our chairs come with complimentary FREE delivery, meaning the carrier will deliver the chair based on what you request. We offer FREE standard curbside, threshold, or white glove delivery.
What are the differences between delivery methods?
Standard Delivery: This is a delivery method where the package or item is delivered to your curb. The delivery person will typically bring the package to the closest point accessible by their delivery vehicle, such as your driveway or the street outside your house. From there, it is up to the recipient to move the package into their home or business.
Threshold Delivery: This method involves delivering the package or item to the first dry entrance in your home, business, or apartment building. This could be the front door, lobby, or garage. It is important to note that the delivery person will not bring the package inside your home or up any stairs unless it is specifically stated in the delivery instructions.
White Glove Delivery: This is the most comprehensive delivery method where the delivery person will bring the chair to a room of your choice (up to 2 flights of stairs) with full assembly included by a certified technician. The delivery person will unpack and inspect the item, assemble it, and remove any packaging materials. They will then place the item in the desired location and ensure that it is functioning properly before leaving.
When can I expect my chair to arrive?
If you select our free standard shipping option, you should expect delivery within 2 to 4 weeks from the date of your order. If you choose white glove delivery (includes delivery and assembly in the room of your choice), you should expect delivery within 4 to 6 weeks (this is due to the more involved nature of white glove assembly).
Where are the massage chairs made?
Parts are manufactured in China, but much of our chairs' assembly takes place in the United States for quality control purposes. We also customize every massage chair model to cater to our customers' needs, as well as a variety of lifestyles.
What is the warranty and what does it cover?
Our standard warranty comes with all of our chairs and covers the costs of any replaced parts, structural framework, and labor on your chair during the first year at no cost to you. All customers also have the option to purchase an extended warranty for additional parts and labor coverage at the time of the chair purchase.
Is assembly required? How difficult is it to assemble?
Yes, but we make it quick and simple with pre-assembly of most of the components, our easy-to-follow instruction manuals, and step-by-step assembly tutorial videos. Home assembly typically takes about 20 to 30 minutes. We also recommend you have a buddy on hand to help you move your chair, as they are heavy and are best moved by two people.
If you feel you're unable to assemble your Infinity Massage Chair on your own, we offer white glove delivery for an additional fee, which includes assembly in the room of your choice.
How often and how long should I use my massage chair?
We recommend that new users ease into their massage routine with 10 to 15 minute massage sessions, two to three times per day. As you become increasingly comfortable and familiar with your massage preferences, you can experiment with longer, more frequent massages. We find the sweet spot for regular users is around one 30-minute session every day.
Why does my chair hurt?
Major discomfort can often be attributed to either overuse or using the chair at too high of an intensity level. We recommend treating your massage chair like any other physical activity by easing into a routine starting with shorter and less intense sessions, with ample breaks in between usages. You can adjust the length, depth, and intensity of your massage in the manual modes on your remote. Once you become more comfortable and familiar with your massage preferences, you can experiment and increase the levels of your usage levels accordingly to find what works best for you.
If you take it slow and still experience pain or discomfort, we recommend consulting your physician before continuing use of your massage chair.
Can I adjust the intensity?
Yes, you can adjust the airbag pressure in the Manual settings of each chair.
Select models also include 3D, 4D or Syner D technology, which allows you to decrease or increase the intensity and depth of the rollers.
Can my kids use it?
Yes, we advise that children aged 10 and up can safely use our massage chairs with appropriate supervision. All of our chairs have body scanning technology that adjusts the massage rollers to the height of the user, allowing users of all shapes and sizes to enjoy a properly aligned massage. The intensity of the massage can also be adjusted for children who would be best suited with gentler massages.
What are the health benefits of massage chairs?
Studies have shown that just two 15-minute massage chair sessions per week reduced anxiety and job stress levels, while increasing alertness and general calmness. Additional studies have revealed that massage chair use reduces blood pressure and blood sugars. Finally, massage chairs reduce pain and tension (e.g., minimizing headache symptoms and muscle tension).
Once you customize in manual mode, can you save that program?
Look for the MyMassage Memory feature in select chairs if you to save manually created massage programs.
If there is a problem with the chair, are there available technicians in my area?
We have technicians located throughout the United States. We will find the nearest tech to you if you ever have an issue with your massage chair.
Can you turn the intensity down on the feet?
You can lessen the intensity in the foot unit by lowering the airbag pressure setting, turning off the foot rollers or both.
Do you have a monthly payment plan?
We understand that you have many options when it comes to shopping for saunas and wellness products online, and we appreciate your interest in Unwind Haven. Here are some reasons why we believe that shopping with us is the best choice for you:
Free Shipping for orders $500 or more:

At Unwind Haven, we recognize that purchasing a high end wellness product is a significant investment in your well-being, and we want to make it as easy and affordable for you as possible. That's why we offer free shipping for all orders of $500 or more to all customers in the contiguous United States. This way, you can get the most out of your purchase without worrying about shipping costs.
Price Match Assurance:

We believe in providing our customers with the best products at the best prices. Our team monitors our products' prices daily to ensure that you are getting the best deal possible. If you find a better price for any of our products elsewhere, simply let us know, and we will match it. Our Guarantee ensures that you get the best value for your investment. Click here for more details
No Sales Tax For Most States:

In addition to our competitive prices, we offer sales tax exemptions for nearly every state, except for CA and WY. This means that you can save even more on your purchase with us, making our prices even more affordable.
Safe and Secure Checkout Experience:

We take the security of your personal and payment information very seriously. That's why we use AES-256 encryption to ensure that your payment details are secure and protected. You can shop with confidence, knowing that your information is safe with us.
Shop Now, Pay Later:

We understand that purchasing wellness items can be a significant expense, and we want to make it as easy and flexible for you as possible. That's why we've partnered with Klarna to offer easy monthly financing, split payments, or buy now and pay your balance in 30 days. We offer flexible payment options to suit any budget and circumstance.

Click here for more details
Excellent and Reliable Service:

At Unwind Haven, we take great pride in providing our customers with the best service and support. From the moment you place your order until you receive your purchase, you can expect consistent communication and support throughout the process. Our team is here to answer any questions or concerns you may have, ensuring your complete satisfaction.

View our help center
Official Authorized Dealer: As an official authorized dealer for all the products we sell, we work closely with each brand to provide you with industry-standard products that are sure to aid you on your wellness journey. All items we showcase are covered by the manufacturer's warranty, giving you peace of mind that you are getting a high-quality product that is backed by the manufacturer.
Government and Military Discounts:

To show our appreciation for your service, we've partnered with GovX to offer a discount on our store. Codes are valid for saunas, showers, tiki bars, and more! Our discount is available to current and former U.S. military, military spouses and dependents, first responders including law enforcement, fire, and EMS, federal, state, and local government employees, and teachers (K-12 and University teachers/staff). This way, we ensure that our customers get access to the best deals possible.

Click here for more details
Volume Discounts: If you are interested in purchasing saunas or other products in bulk, we offer volume discounts to help you save even more. Simply reach out to us at support@unwindhaven.com with your inquiry, and we would be happy to provide you with a customized offer.
At Unwind Haven, we've worked hard to create an unparalleled shopping experience for our customers. We believe that our commitment to providing high-quality products, excellent service, and competitive prices sets us apart from the competition. Shop with us today and experience the difference for yourself.
While we fully stand by every product that we sell, we understand that sometimes you might change your mind or realize the product you ordered wasn't exactly what you were hoping for.
That's why we offer a 30 Day Return Policy.
If you decide you want to return an item within 30 days after receipt of your order, please email us at support@unwindhaven.com with your order number and we will provide detailed instructions on how to process the return.
Please note, that you as the customer will be responsible for paying the return shipping costs of the item(s) in your order.
Once your return item(s) have been received and inspected at our warehouse(s), we will send you an email notification that we have processed your return payment.
*Please note: In order to receive a refund for the item(s) ordered, the item(s) must arrive back at our distribution center in "Like New" condition and must contain all original packaging and accessories.
"Like New" means that the items you ordered must not show any visual signs of wear.
If items are returned with visual signs of wear, or have any issues due to use, they will not be accepted and no refund will be given.
If you decide you want to return your order, please email us at support@unwindhaven.com with your order number and we will assist you. We want to make this as simple of a process as possible for you.
All canceled orders and/or returned goods shall be subject to the following: a) storage fees and costs associated with routing the goods; b) handling and restocking fee of 20% of the total purchase for each sauna; c) return shipping cost
If the item has been opened, assembled, and used.
Important Information Regarding Dundalk LeisureCraft Returns
We will first try to send you any necessary parts free of charge.
It is very expensive to return products back across the border
If a product must be returned to the factory, the following will apply:
a. 20% Restocking fee
b. The customer will be responsible for shipping costs to the factory
c. Products must be returned in their original packaging and condition
d. Leisurecraft will inspect the product upon return and Leisurecraft will be the sole decider of the condition of the product and the amount of the refund
Damages
If the product is damaged, you must make note of it immediately when signing for delivery and send photos to support@unwindhaven.com on the day of delivery.
Remember to keep all the original packaging for any items that need to be returned. All returns need to be authorized by our customer service department prior to being processed.
We will ensure you get the product you ordered, undamaged, as soon as possible. Items that become damaged after use are non-refundable unless specified under warranty.
Specific Information For Dundalk Damaged Orders
If the crate arrives damaged, you can accept the shipment, however, please take pictures of the damage, and note the damage on the shipper's Bill of Lading (BOL).
Immediately, contact us or Dundalk, so we can contact the shipper.
Mark the Bill of Lading (BOL) with "(Crate arrived open/damaged- Possible Hidden Damage.
Specific Information For Golden Designs Damaged Orders
Once the driver has unloaded the sauna, please immediately inspect the boxes for any damage.
Please indicate any minor scratches, indentations, or scuff marks to the outside of the boxes on the delivery receipt.
You do not need to open the boxes to inspect the sauna.
Please refuse the delivery if you see any softball-sized holes in the packaging which is likely caused by forklifts.
Cancellations
If you would like to cancel an order, please email or call our customer service team immediately to avoid return shipping fees.
Cancellations received before shipment will receive a full refund.
Orders canceled after items have shipped will follow our 30 Day Return policy and will be subject to return shipping costs.
Other Return Policy Notes:
If a certain vendor or product does not support the return policy stated above, this will be noted in the product descriptions or in the product-specific return information.

Products that are specified as certified pre-owned or used are ineligible for a return

Unwind Haven

only sells to purchasers who intend to use the item(s) for the duration of its economic life. Orders purchased for the specific purpose of a "one-time-use or temporary use" are not eligible for return under any circumstances. This includes but is not limited to; orders intended for use in a trade show or a conference venue, orders that are purchased by promotional companies, and orders that are purchased by trade show facilitators.
Shop now, pay with Klarna.
We've partnered with Klarna to give you a better shopping experience.
It's smoooth and simple
Klarna helps you elevate your shopping game. When you choose Klarna at checkout, you'll get the option to shop now and pay later for your purchase. It's shopping the way it should be. Effortless, safe and fun.
4 interest-free payments
Split your purchase into 4 payments so you can spread the cost of your purchase over time. Enter the credit or debit card of your choice for automatic payments every two weeks. No interest or added fees when you pay on time.
Monthly financing
Apply for easy monthly financing directly in the checkout. A simple, 2-step application will provide an instant decision. Once you've been approved, you'll receive reminders and can manage your payments directly in the Klarna app. Monthly financing products are offered by WebBank, member FDIC.
How to shop with Klarna
Add item(s) to your cart and head to the checkout.
Select Klarna at the checkout to pay as you like for your purchase.
Manage your orders and payments in the Klarna app.
Safe and secure.
Klarna uses the latest safeguards and security to protect your information and prevent unauthorized purchases.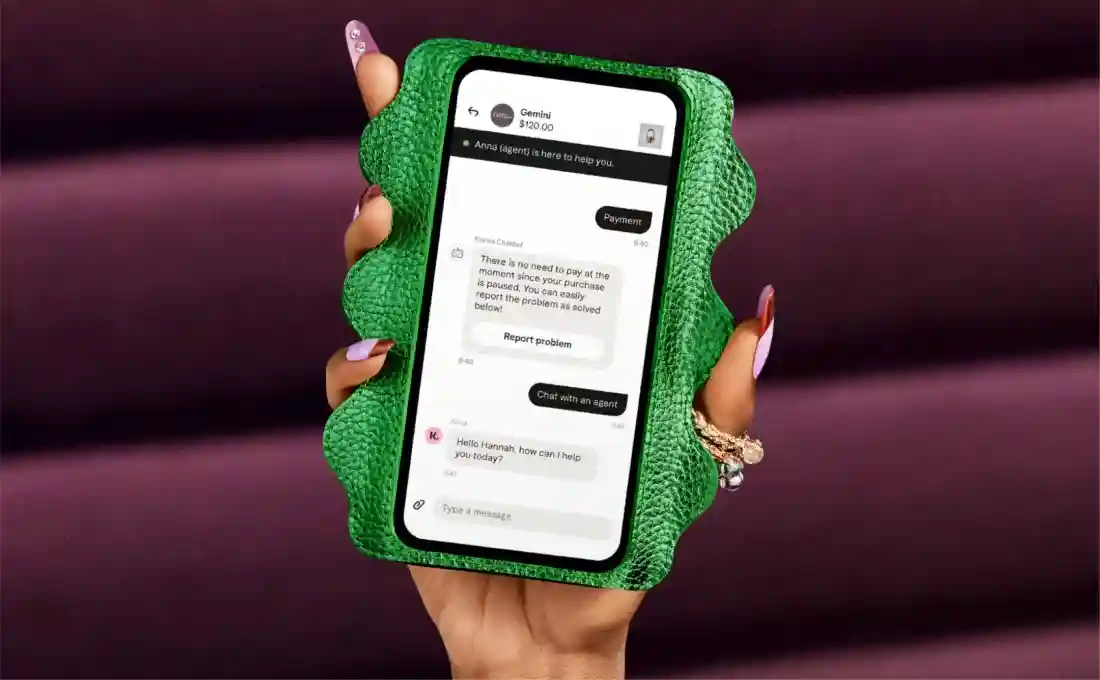 We're always here to help!
Don't see your question here? Check out Klarna's full FAQ page. You can reach Klarna anytime at https://www.klarna.com/us/customer-service/ or by downloading the Klarna app.
What happens if I make a return?
If you need to return part or all of your order, Klarna will issue you with a new statement. Simply follow the retailer's return instructions and make sure to take note of the tracking number. Log into your Klarna account, select "report a return", and we'll pause your statement. As soon as the retailer has processed your return, we will send an adjusted invoice.
There's something wrong with my order. Do I still need to pay for it?
You do not need to pay for goods that are received damaged, broken, or defective. Follow the retailer's dispute instructions and "report a problem" in your Klarna account to pause your statement until the issue is resolved. As soon as the retailer has registered your return, the refund will be processed within 5-7 business days.
I have not received my order. What happens to my statement?
You do not need to pay the statement until you have received your order. Contact the retailer for a delivery update, log into your Klarna account, and "report a problem" to pause your statement until you've received your order.
My statement is incorrect. What should I do?
If your statement does not match your order details, please contact the retailer directly to correct your statement. Log into your Klarna account and "report a problem" to pause your statement until the details have been corrected.
About Klarna
We're on a mission to reshape shopping, by elevating the entire shopping experience from browsing to owning. We do this by giving you the benefits of convenience, perks and inspiration.

Founded in Stockholm, Sweden, Klarna is one of Europe's fastest-growing companies and a leading alternative payment provider. We have 5,000 employees across 45 countries, and are leading the way for alternative payments by serving 147 million consumers and 400,000+ retailer's payment solutions.

https://www.klarna.com/international/about-us/